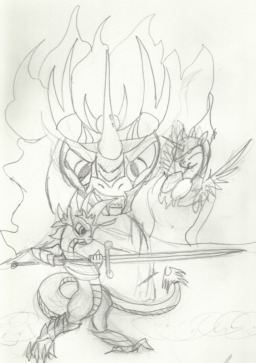 Spike, the now prince of all of Equestria. Handsome and Charming, and born a thousand years before he was supposed to, is now a completely different being.
Spike, during these extra thousand years, has been training in all the fields known, his long life allowing him to retrain all that there is. Although with all good things, comes a price.
We now find us to the day of when his birth was supposed to take place, Spike is now a slightly different being. All that he has learned and experienced has changed the way he acts and feels, love not being part of that scheme.
But one day, he meet's a mare by the name of Twilight Sparkle, and his life is soon flipped. As he soon get's attached to the mare, as our lucky duo are soon sent to Ponyville.
How will the story change with a new Spike? What are some of the hardships Spike had to experience in order for him to mature from a prick teen into an sightly less prick teen? Why is Spike the why he is now? And will our lucky duo succumb to the gross element known as love?
---
Editors: Ventan and The Silent Watcher
Idea given to me by Smurf.
Chapters (5)