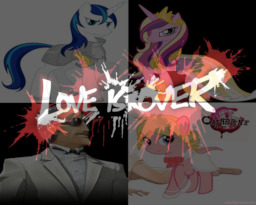 Caught in the middle of an accidental affair, Shining Armor is thrown into a nightmare that continues every night. Being forced to climb the large tower of blocks above him or die at the hands of the creatures that chase him, he must reach the door at the end and continue living one more day at a time. All he wants is to set things right between him and Princess Mi Amore Cadenza, and end the mistake that was his affair with a mare named Catherine.
But every time he finds himself trying to break off ties with Catherine, he wakes up the next morning after his nightmares to find her lying in his bed. Not sure exactly how this started, and unable to remember his dreams in detail, Armor is forced to face the reality of the two mares he's involved with, and make a decision on just what it is he truly wants in his life.
This story is not only set in an alternate-universe Equestria, but also set before Armor and Cadence's wedding.
For any fan of the story of the hit puzzle game "Catherine", this story is right up your alley! Rated Teen for sexual themes, strong language, use of alcohol, and violence.
Chapters (18)