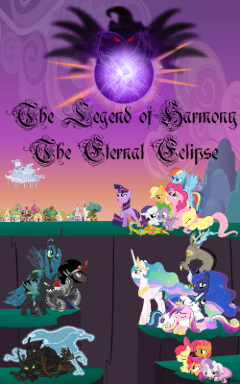 Takes place before the season 3 finale.
1000 years before Celestia and Luna defeated Discord, they and their 5 friends had to defeat the most maleficent creature of all. A pony the legends call Pariah. By using the Elements of Harmony, they were able to seal him and the darkness inside him away into eternal crystal.
In the present, Twilight Sparkle fears that Pariah may return, because of a lost page of the historical tradition she found. Because the princesses' won´t listen, she and her friends steal a sacred artifact, which is used to start the festival of the eclipse, a festival ponykind celebrates every 25 years since the defeat of Pariah. With the artifact, Twilight believes she can reveal a power that is able stop Pariah.
But everything takes a bad turn and Pariah is free again and the fight for Equestria seems to be doomed.
Will Twilight Sparkle and her friends be able to stop the threat for existence itself and vanquish the darkness inside Pariah, or will Pariah use the contrary powers of the Elements of Harmony and excites his craving for vengeance and eclipses the world with him?
Chapters (16)