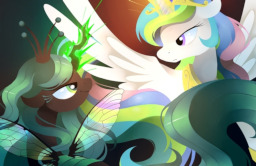 Source
Changelings have plagued Equestria for thousands of years, horrific bug-like beings who take the place of your loved ones and feed off the love you give them. Until the wedding of Princess Mi Amore Cadenza and Prince Shinning Armor, where their queen was finally defeated, and all changelings expelled from Equestria once and for all.
As the wedding takes place in Canterlot, ponies from Manehatten to Trottingham flock to the streets to celebrate the defeat of Queen Chrysalis.
No one mourns the lives lost.
Chapters (1)