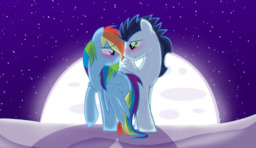 Long, long ago, when the two worlds of Day and Night split apart, the Wonderbolts and Shadowbolts did as well. The Wonders belonged to the Day and the Shadows, to the Night. Rumors turned them and their worlds against one another, becoming sworn enemies. The bond that once kept them and their worlds together had been reduced to nothing but bitterness and hatred. To ensure no connections were made, a forest full of danger separated each worlds' territory. The dense hatred grew over time. Then, on one fateful day, everything changed.
Soarin, Prince of the Day and an elite Wonderbolt wonders about the Night World. Rainbow Dash, Princess of the Night and an elite Shadowbolt wonders about the Day World. When they meet in their youth, they develop the most forbidden of friendships, meeting in secret as often as they can throughout the years. One day, it turns into something more.
But on the same day, their secret gets out.
Spurred on by hatred and betrayal, the two worlds prepare for war. Can these two friends prove to their people, enemies, and families that love and harmony is possible? Or will they never get the chance to be together like they want?
Follow them on this journey of love, trust, and betrayal as they teach the world and each other what True Love is - putting aside the biggest differences to accept them for who they really are, and to show that they are willing to do anything to ensure that the other is safe and happy.
---
EDIT (1/21/18): I hate to disappoint you guys, but I'm officially canceling this story. This version, at least. I jumped into this with no plan and in the process, got myself stuck in a messy web of world-building, details, history, and everything that this AU doesn't quite have set in stone yet. I'm leaving this here for your viewing pleasure, though, and I promise you, whenever it is that I get to rebooting this, it'll be much better; because then, it'll actually make sense.


Chapters (1)