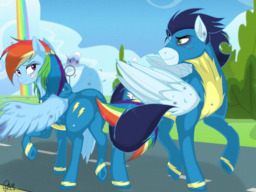 Source
Soarin and Rainbow Dash have been a known thing for quite some time now. Every interview, every meet-and-greet, every show, and every day, they are faced with the same love and hate from fans all over Equestria. Only the ones who bother to really observe see that the couple is just as innocent, sensitive, loyal, and sweet as they are raunchy, sexy, bold, and confident. Nothing can be a better representation of that than what went on at HQ.
He hates it more than words can express, but Soarin has always had a tendency to be overprotective of his mare, sometimes even jealous. And seeing that Dash happens to be one of the most attractive mares on the face of the planet, he has a good reason to be; stallions always seem to know the right buttons to press to make him feel jealous and threatened. Sometimes it doesn't even matter who the stallion is - if they overstep Rainbow's boundaries, it'll be enough to set him off. So when his cool finally slips around a fellow Wonderbolt, he doesn't expect his day to end very well.
What he doesn't realize is that Rainbow Dash is very aware of how he's like when he sees her with someone else. And she wouldn't change that for the world. She loves him inside-out and will be damned if doesn't know that.
---
For PimpArtst101's story contest for the given cover piece, and also inspired by Camila Cabello's song "Inside Out" off of her debut self-titled album. First time I've ever done something like this, but Imma tell you, this was SO much fun to do, and I hope you enjoy!
Chapters (1)