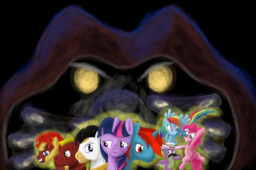 Source
War has come to Equestria. Guard ponies are drafted, and find themselves deployed all over the realm. Twilight and her friends find themselves dealing with the Guard ponies of the Ironhoof Century, the threat of invasion, and a sinister plot over a thousand years in the making!
This tale is meant to be a novelization, dealing with the hardships of (a not so violent) war, the struggles of ponies meeting strangers who may not be so friendly, and the depth of feelings. This tale does contain mild violence, suggestive themes, some shipping, and a number of OCs. That said, the spirit of My Little Pony is of paramount importance in the tale, and great lengths have been crossed to ensure a true-to-the-characters feel.
Reviews and suggestions are welcome!
Also, if you want to get a look at my artwork for the cover in detail, check out my deviantArt. My ID is ardanblade . deviantart . com/
Chapters (19)