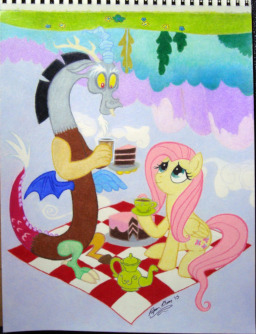 Source
Tea and Picnics might sound like simple activities but when a certain Draconequus is involved things are never boring. Join Fluttershy and Discord as they learn more about each other from a series of outings between the events of Keep Calm and Flutter On and Twilight Sparkle's Kingdom.
Note: This is a series of one shots inspired by the absurd situations I envisioned for a Fluttershy and Discord Duet in Chapter 1 of my fic My Fair Draconequus and also the fact that MLP:FIM Friends Comic #24 said they meet once a month for their outings. You don't have to read My Fair Draconequus to understand or enjoy these stories but these stories will give more meaning to the duet when you actually know what they were singing about.
The next update will be in May. That story will be called "Chocolate Pies Drowning Griphons".
Chapters (2)