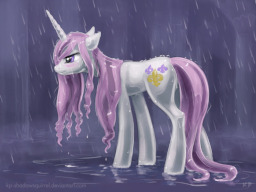 This story is a colaboration between Dusty Pwny and myself.
When it came to the world of entertainment, Fleur Dis Lee could do it all. She once showed her prowess in acting with her portrayal of princess Luna in the stage play, The Lonely Night. She wowed Equestria with her dancing as she toured the realm with a traveling troupe. Arenas would be sold out months in advance, just to hear her sing, and ponies from all across the land would marvel at how she used magic to either enhance the experience of the show, or would build entire shows around illusion. It wasn't just that she was good at these things that whatever she did sold out, but because she was the best.
But that was in the past, Fleur hasn't done anything for years, content to live in the lap of luxury as Fancy Pants' trophy mare, and be shown off to all the most important ponies in Canterlot at the most important events where anypony who's anypony would be at.
But after a scandal, she suddenly finds herself with no money, no friends, no home, and no sign of help from the stallion she thought loved her. Perhaps it's time for a comeback? But then again, who wants to see a pony that's not famous anymore.
Chapters (2)