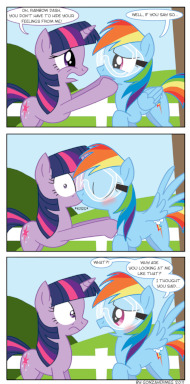 Source
This is a collection of short stories, all shipping, and all with some element of luck involved in the pairings. All the stories take place in the same continuity, and all pairings are final! No cheating in these fics, sorry.
When Rainbow Dash kissed her, she had no idea what she was doing. She was running on automatic. Will the pony of her dreams hate her? She really is the Stupidest Pony In Equestria.
Based on image by GonzaHerMeg.
Chapters (10)