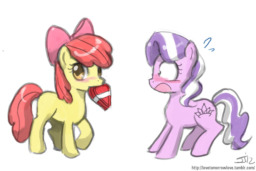 Source
After loosing a bet to the Cutie Mark Crusaders, Diamond Tiara dresses up as a pig. This gives her the unwanted attention of Apple Bloom, who has become completely obsessed with her. Can Diamond Tiara survive this nightmare?
Spoiler warning: No.
---
Written for Valentine's Day, err, I mean Hearts and Hooves Day.
Chapters (1)