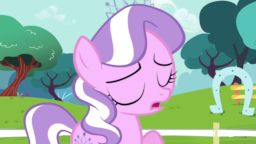 Going through a bout of insomnia, Diamond Tiara is willing to try anything to help her get to sleep. So far nothing has worked, but that doesn't mean she's willing to give up.
---
Part of the "Insomnia Project", where Bootsy Slickmane and I decided to both write about Diamond Tiara having insomnia and see how different our takes would be. Check out his story here. And before you ask, yes, his version is almost as good as mine ;D!
Thanks to Mudpony for editing and inspiring me to write this (forgot to credit him earlier due to being tired}.
Chapters (1)