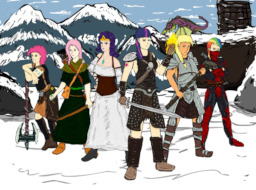 Source
*REBOOT!*
Note:
This is a Skyrim crossover, not a Game of Thrones one. Couldn't think of a better name. Ples don't judge.
All previous problems fixed:
Dovahkiin is a Nord, with Google approved Nordic name(courtesy of Bowtastic).
No universal dragon language.
A few chapters proofread by Bowtastic
When Cadance used the Crystal heart to defeat Sombra, an event which would rip the currents of time occured. That caused those who were close around the Princess of the Crystal Empire to be transported to where that event happened. However, the enormous magical outburst provided some...unwanted changes for the Equestiran travelers.
Now they must unite with a being of immense power and share his adventures if they are ever to return home.
Chapters (8)