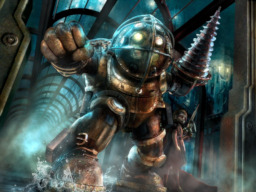 The protector, otherwise known as the Big Daddy, is often regarded as the ultimate killing machine of the underwater utopia known as Rapture. They are nearly indestructible, can endure the crushing pressures of the bottom of the ocean, and possess a variety of killing tools.
Through a completely unexpected sequence of events, a Big Daddy is sent to Equestria through a tear. Knowing the kind of havoc a Big Daddy can cause, Booker DeWitt and Elizabeth pursue the behemoth to get it back.
But they're too late.
Takes place in the BioShock: Infinite- Burial at Sea universe, in an alternate timeline. The events of the DLC Burial at Sea: Episode 1 do not happen. Booker and Elizabeth are not trying to find Sally. NONE of your favorite ponies are getting killed, I promise.
Chapters (9)