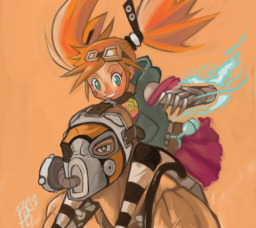 Source
WARNING: Contains spoilers to Borderlands 2, read at your own risk!
After the defeat of Handsome Jack, Gaige can't help but feel left out, as her team still can't take her seriously, except Kreig, but thats another story. One day Gaige finally finishes the third arm for D374-TP so that she can give him high fives, however, after an unexpected result, Gaige, D374-TP and Krieg arrive at Equestria. Will they be able to live in harmony? Or will Kreig light himself on fire, Like.. a lot?
Updates whenever I feel like it. Otherwise your gonna have a baaad time!
Cover at made by blueyoshimenacem on Deviant Art Link: http://blueyoshimenace.deviantart.com/art/Gaige-and-Krieg-375149788
Chapters (4)