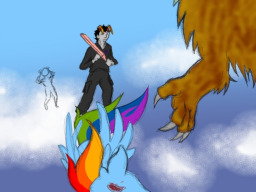 Strange meteors have started falling into Equestria. Except these aren't meteors, they're gods.
Join our favorite ponies and alternate counterparts as they are unwittingly drawn into a fight that spans multiple universes, all for the sake of saving the original alpha timeline.
Crossover with alternate universe Homestuck and original characters created by others. Prior knowledge of source material recommended. Starts out as small as Appletini and expands like the universe.
Chapters (29)