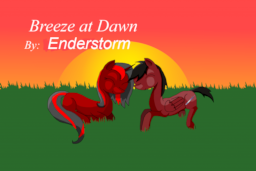 "Fate can be very cruel."
Dawn is a unicorn that has been harrased and bullied her whole life, all because she dosen't have a cutie mark.
But, a young Pegasus named Wind Waker becomes friends with her and brings hope to her. But little does the red Pegasus know that Dawn has more feelings than he does with her
Dawn belongs to me, Wind belongs to Theater. Not bleh.
Cover Art by Sakura. Badly edited by me.
(Note: I know, this was on theatercritics account, but I reposted it to somewhere with alot less of a bad reputation. Also, it's hardly a collab anymore. And yes, gawk at my badly edited cover picture. I got a bit lazy...)
Chapters (4)