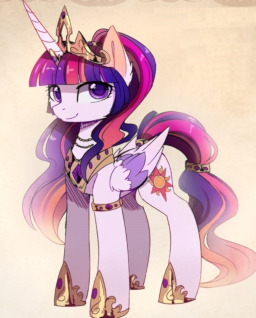 Source
Life is pretty good for Twilight. Equestria is at peace and her relationship with Celestia makes every day a little brighter. Yet when she begins having strange, vivid dreams about a future where Celestia has been replaced by a mysterious Queen, Twilight can't help but wonder what those dreams mean for her own actual future.
Written for the 12th Twilestia contest.
Edited by the ever-excellent Jordanis.
Technically this is a sequel to Never Meaning to Send, Chocolate Fluff, and Stepping Off, but just in that they share the same setting, not that any of those are required reading to enjoy this.
Cover image by MagnaLuna
Chapters (1)