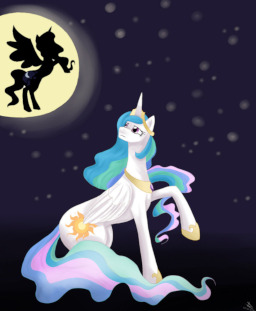 Source
It is the night of the Summer Sun Celebration, but not everypony is celebrating. Princess Celestia, the one upon whom the entire festival depends, has other things on her mind. This marks the one-thousandth Summer Sun Celebration since Nightmare Moon's imprisonment, and the signs have been clear that this will be the night she returns.
Far from racing to confront this threat, however, Celestia has hidden herself away in the royal palace in Canterlot. As she tells Shining Armor, she won't—she can't—fight her sister again.
This story explores Celestia's role in, and her conspicuous absence from, the struggle against Nightmare Moon as shown in Season 1, Episodes 1 and 2 of My Little Pony: Friendship is Magic.
Cover art by HH-Anime-HH: http://hh-anime-hh.deviantart.com/
Chapters (1)