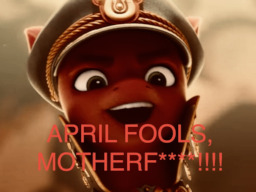 This story is a sequel to The Greatest Ultimate Mix-Up Story (April Fools Special)
---
Sprout Cloverleaf has always been bossed around by those around him. Ever since he failed in his mission to wage a war amongst the pony races, Sprout has become subject to humiliation and degradation, with no signs of it ever stopping. All he wants to do is feel powerful again and get revenge on those who defeated him. Yet, no one will ever consider letting him have any power anymore.
That is…until he is suddenly visited by a race of aliens who give him the power to destroy Equestria. Now gifted with the powers of a god, will Sprout use it to change his ways and win back the trust of the ponies of Maretime Bay? Of course not!! He'll use it for maximum carnage instead!!
Author's Note: Final installment of my two-part April Fools special. I promise I'll get back to writing The Fall of Opaline now, I promise. This is just a fun idea I've had in my head for a long time and it is a joy to see it finally come to life. Enjoy!!
Chapters (1)