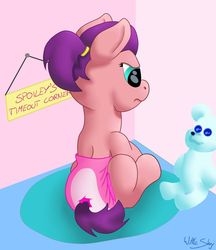 Source
This story is a sequel to Act Your Age.
---
After Celestia transformed Spoiled Rich into a adorable foal, she must endure the shame of being a mare in a foal's body.
Learning that if you act like a child, you will only make a foal of yourself.
---
Alt Sequel/Ending to 'Act Your Age', if interested in The True Sequel where Spoiled stays a foal check out Growing Up Spoiled.
Chapters (1)