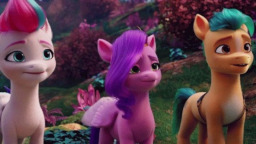 The night after magic returned was… interesting! That was a good word for it, interesting. Once everypony had finished being awestruck by working wings and glowing horns, Maretime Bay had to handle the logistical issue of housing several visiting dignitaries, guards, and tourists from their once-mortal-enemies (who, it turned out, had just not really given a flying feather about them).
Well, Zipp and Pipp volunteer for… alternate arrangements.
Which Queen Haven promptly regrets finding out about in the morning.
CW: Possible forced adoption, FMF relationship and off-screen threesome, Haven family drama, and possible (okay, probable) incestuous relationship that defies a cursory understanding of genetics.
Story written for No Shame November - link excluded because *technically* this is a clean fic? 
Look, I promised y'all something fluffier than Spryllis, so here you go! Sorry to deny you the evening's festivities, but those may turn up in a side piece at some point.
Chapters (2)