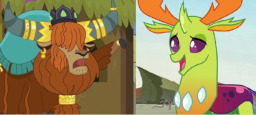 Princess Twilight Sparkle was a key ally to the reformed changelings. Security, trade, somecreature to vouch for the reality of their reform - without her, Thorax would likely have been deposed, and the hive conquered, long ago.
But that didn't mean Thorax thought he could rely on just her allegiance to carry the changelings forward. He'd forged an alliance with the dragons since then, and was working on breaking down the distrust of the griffons and hippogriffs. Which left just one group to open up to.
The yaks.
Fortunately, Thorax thought he had a pretty good read on how to handle them. He just hoped he was right about Rutherford being a better diplomat than anypony gave him credit for.
CW: International trade and politics, copious headcanon/world building nerdery
Story originally written for the May 2022 Pairings Contest, we'll see if it posts in time! This is what happens when I get an idea the weekend before the deadline but still have to work.

Chapters (1)