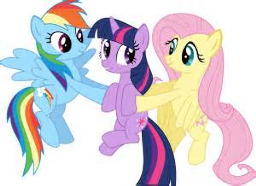 Source
(Very loosely) based on the true story of a poly acquaintance of mine trying to find a restaurant on Valentine's Day for herself and her two mates.
Twilight, Rainbow Dash, and Fluttershy are going out to enjoy their first Hearts and Hooves Day as a triad. Twilight has everything planned down to the dot, from when they'll arrive at the restaurant in Canterlot to exactly how many rose petals will be on the cloud-bed at her room in the palace when they get home (forty five, and only true rose petals, no stamens – three roses for each of them, one red, one yellow, one dyed blue.)
Then she finds out about one technicality that never even crossed her mind. La Romanetique, Canterlot's premier high-class dining establishment, only serves couples on Hearts and Hooves Day.
The earth shall tremble. The heavens shall fall. Tartarus itself shall disgorge its most feared inmates… but Princess Twilight Sparkle and her marefriends shall dine tonight!
Chapters (5)