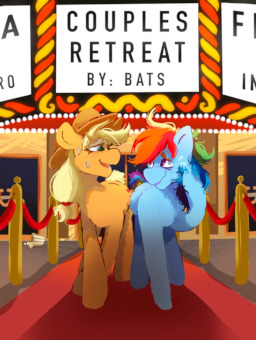 Source
Following the Cutie Map, Applejack and Rainbow Dash head off to Whinnypeg to find a friendship problem somewhere in the convention center. A con is poised to start when they arrive and they check-in as attendees, ready to search high and low among the staff and the con-goers for whoever needed their help. The only real problem is that the con is a couples retreat, everypony is flashing Applejack and Rainbow Dash knowing looks, and the two of them aren't together like that.
At least, they haven't been together like that since they were teenagers …
A novella told in three parts.
Editing by JetstreamGW and bookplayer. Cover art by mousse.
Chapters (3)