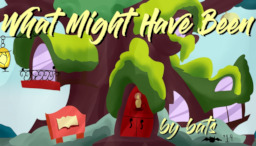 Starlight Glimmer has gone back in time. Each time Twilight tries to stop Starlight, she fails and is flung back through the portal and into a broken, twisted Equestria, ravaged by wars or monsters, each version worse than the one before, barreling toward the destruction of the world. Until she lands in a version of Equestria that ... isn't worse. It seems unchanged, happy, normal. The only real difference she can find on the cutie map is that her castle isn't there ...
... but the library still is.
Editing by Formerly Committed and JetstreamGW.
Chapters (2)