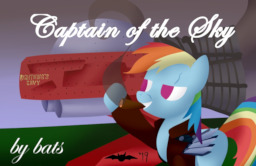 Magic has faded and the surface has been lost, but the war rages on. Twenty years after the catastrophic start of the battle, what's left of Equestria hides in the skies, fighting for survival with machines powered by diesel.
Most don't think twice about Captain Rainbow Dash, still piloting out in the field after decades, too stubborn for a promotion to stick but too skilled to be forced into retirement. All they see is an old burned out warpony waiting to die on the battlefield. Nopony knows what Rainbow Dash is fighting for anymore. Maybe not even Rainbow Dash.
Editing by Formerly Committed and JetstreamGW.
Chapters (1)