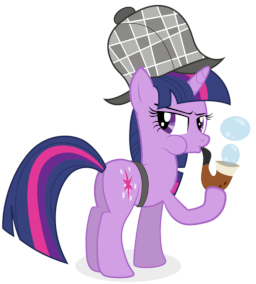 Source
This story is a sequel to It's Elementary, My Dear Rainbow
---
Something is going bump in the night in Ponyville, cutting a path of destruction through the quiet town. It's up to the brilliant mind of Twilight Sparkle to get to the bottom of this, accompanied as always by her loyal assistant (and new marefriend) Rainbow Dash.
This is a stand-alone story following the Twilight Holmes continuity established in It's Elementary, My Dear Rainbow. Reading the first story is recommended, but not required to enjoy Sabotage After Sunset. It is followed by Salting Snails.
Editing by Doctor Strangelove and Formerly Committed.
Chapters (1)