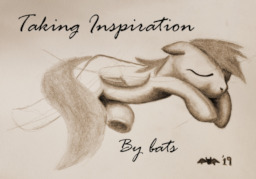 Presented with the opportunity to design and paint the ad campaign for an upcoming clothing line, Rarity realizes it's been a long time since she's drawn anything aside from clothing designs. She needs some practice to knock the rust off and a live model to draw from. Rainbow Dash is the perfect pony for the job.
Now if only Rarity didn't find Rainbow's posing so provocative ...
Editing by Formerly Committed and JetstreamGW.
Chapters (1)