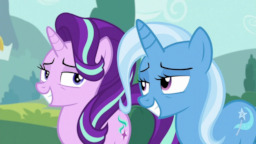 Twilight Sparkle accidentally disrupts Starlight's day off with Trixie upon receiving a shipment of Germane chocolates and turning the Castle of Friendship into a veritable fortress to keep them safe, and Starlight doesn't take too kindly to that. Trixie's solution: steal the chocolates, thus forcing Twilight to return things to normal.
It's the stupidest, most daring heist plan of all time, and Starlight's having none of it.
Although, she does love the taste of chocolate...and Trixie's plan could work with the right amount of luck...
...Screw it.
---
(A Manechat Discord Secret Santa 2021 gift. Merry Christmas, Mercurial!

)
Chapters (2)