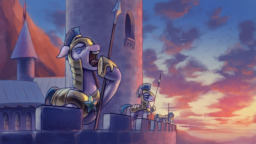 Source
---
Part of the Spiral of Fate universe.
---
Outpost 13...often considered the most unlucky posting to be given when you're a Royal Guard. It holds no real tactical value, and was built long ago before the Unification Period of the Three Pony Tribes. It's now more of a historical site, being the last-standing remnant of a bygone era. It's useless, it's remote, and it's boring.
And it's the perfect dumping ground for when you want to get rid of three of the Royal Guard's worst soldiers ever.
Private Samwise Tater (the Thinker), Corporal Plucky Guess (the Cynic), and Private Prism Rain (the Sleeper) --- the three of them have been at Outpost 13 for one year now, all on their own. Once you've been there that long, you begin to develop a routine: wake up at 0600, eat, then stave off boredom for the next 18 hours before it's time to go to bed. Usually by talking or planning ways to take over the world, or if nothing else, how to raid Princess Celestia's cake stash without getting caught.
Today's their one year anniversary, and they're at their breaking point.
(Heavily inspired by Rooster Teeth's Red Vs. Blue web-series.)
---
Featured: 2021/08/18 - 2021/08/23
*200 Likes! Thanks everyone!*
SPECIAL THANKS: Cover art by Hunternif (Sketch 41: "Early Morning")
Chapters (1)