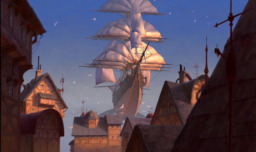 **ON HIATUS UNTIL FURTHER NOTICE, WILL FINISH**
Treasure Planet is no more. Its remains are now ash in the nebulae of space, and the Loot of a Thousand Worlds is lost forever.
Or so the official reports say.
When a second map is found on the strange, paradise planet of Equus by a "Princess Twilight Sparkle", the RLS Legacy and her crew are once again sent to investigate. What they find could change the course of the galaxy's history forever.
For there wasn't just one Treasure Planet out there --- there are six more, and each one has a dark secret.
And someone in the deepest reaches of space isn't so keen on letting anyone find the others.
Pirates, man-eating plants, rogue robots, carnivorous space krakens, and several grouchy Flatulan merchants --- the motley crew of the RLS Legacy and their newfound Equestrian allies will face all these and more in their greatest adventure yet. Loose the solar sails, ladies and gentlemen, and may the winds of the Etherium guide you on your voyage to glory.
---
Takes place before Season 9.
Chapters (8)