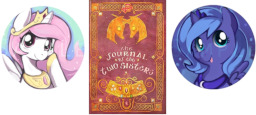 Twilight Sparkle, Princess of Friendship & bearer of Element of Magic, was in search of an old book whose pages were torn off. She, along with Spike, decide to go to the Royal Sisters to ask their assistance in accessing the restricted section of the Canterlot Library as they had done during Sunset's recent arrival. They agree & Twilight is left to search for the book. Her search leads her to find a book titled 'The Journal Of The Two Sisters'. Seizing the opportunity to read the Journal of the oldest deities, Twilight & Spike decide to read through it. What they don't know is that they are going to know a lot of secrets that Equestria never knew, doesn't know & probably wouldn't know of at all.
[Update : 20/03/2020] Thank you to all who read my story as it has 361 views!
Special thanks to Sunsetsjournal for helping me along the way!
Chapters (3)