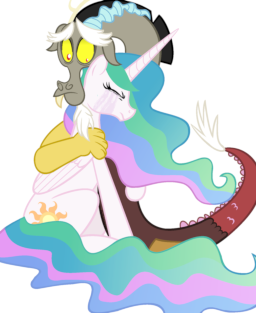 Source
Celestia and Discord, as teens, flee their destroyed homeworld to a new world promised by a letter from Luna. But Discord can't escape his nature, nor Celestia her memories. Being a chaos mage on a starliner is a death sentence, and yet, Discord has to keep using his mind-control powers to take Celestia's emotions away, at her request, because otherwise she wants to die. And Gray Celestia, the discorded Celestia with no emotions but the drive to protect herself and Discord, will do anything that needs to be done to save them both.
Warnings: suicidal ideation, consensual mind control that's still kind of messed up, genocide, a near-execution, mass murder, and comforting lies.
Cover art is by ponkamena/polkahorse, who now goes by ashiida (link goes to their new deviantart account). The source link goes to the derpibooru version. This was the closest I could get from all of derpibooru, though in the fic they're both much younger than the art would suggest.
Chapters (1)