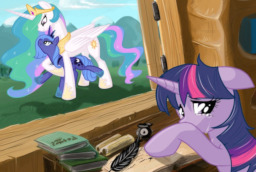 Source
Princess Celestia is the loving ruler of the peaceful land of Equestria, along with her dear younger sister, Princess Luna.
But, a long time ago, few ponies even knew that Princess Luna had existed. It was just Princess Celestia, way back then, and nopony thought anything of it, until one of her students slowly put the pieces together and wrote down her findings.
Now, nearly six hundred years later, Twilight Sparkle finds the diary of that one faithful student who saw past the Princess's facade and taught her teacher a lesson, herself.
Chapters (3)