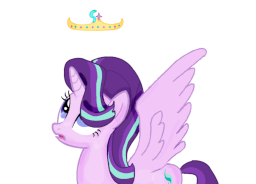 In a jarring change of events, Princess Celestia decided to crown Starlight Glimmer as a new princess of Equestria. Her dominion? The old village she used to rule with an iron fist, but now, expanded to be a large kingdom designed for any creature to live in it, no matter their species or origin.
Naturally, Starlight is apprehensive about her new rule, as well as unsure about what to do. Will she fall back into her old ways and try to harm her subjects, especially with her new power? Will she start a multi-nation war? Will she meet the all-powerful being who is responsible for her destiny? Only time will tell as Starlight braves the challenges of being a leader once again.
---
Tagged AU because I haven't completely kept up with the series so there will probably be multiple things I write that go against the actual show.
Base in coverart made by BronyBase on DA, rest was poorly drawn by me
Chapters (2)