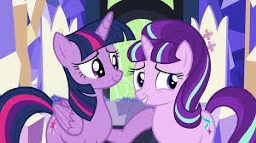 After the Crystalling, Starlight Glimmer starts to feel quite fond of Sunburst. She's always thinking about him and feels her stomach explode in butterflies whenever he comes to mind. She is constantly hoping from a letter from him, and has a strange desire to be close to him.
She approaches her mentor, Twilight Sparkle, questioning if these feelings are normal for friendship, or if their friendship is... special for whatever reason.
---
A brief discussion had by Twilight and Starlight with a few slightly humorous scenes.
CONTAINS SPOILERS FOR SEASON 6! YOU HAVE BEEN WARNED!
Chapters (2)