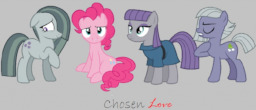 This story is a sequel to Tale of the Choosing Stone
---
The time has finally arrived: the four Pie sisters are about to go to the Choosing Stone to find their special ponies. However, even though they are shown to the right pony for them, love still has its difficulties to work through.
---
Chosen Love is a story detailing the love lives of the four Pie sisters: Limestone, Marble, Maud, and Pinkie Pie. I am warning you now that there might be a ship you don't like thrown into this story.
Sex tag is for light innuendos.
Chapters (73)