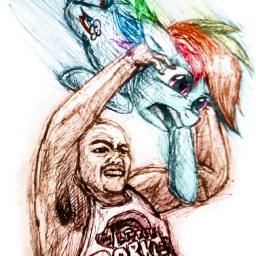 Source
This story is a sequel to OC Slamjam - Round Three
---
The Official Compilation of all entries from the final rounds of the OC Slamjam run by Obselescence, where authors invented OCs and were paired up into brackets to write a story about their opponent's OC and their own!
THE OFFICIAL CONTEST COMPENDIUM - Use this to find the relevant entries on everyone's OC. Control+F helps a lot in quickly finding names.
You have until 11:59 PM CST on Tuesday, September 1 to cast votes on your favorite entry from each bracket. Each chapter contains both competitors' entries, each attributed to the author who created that OC. Cast your vote in a comment on the relevant chapter by writing "[OC Name]'s Author" in bold at the top of your comment. You may cast one vote per OC pairing. Votes should ideally be cast based on characterization, overall writing quality, and how well the author utilized the character sheets contained in the official contest compendium.
To retain anonymity, authors are allowed to cast votes on their own entries. You don't need to vote on entries marked as won by default. To spread the votes around, please try not to start from the beginning.
Chapters (9)