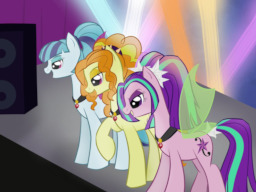 WARNING: SPOILERS TO EQUESTRIA GIRLS RAINBOW ROCKS IN THIS FANFIC! Ye have been warned!
I knew this would happen, I just knew this would happen when I saw the movie. I blew the entire weekend writing my own personal response fic to the movie (and likely will the next couple of days well).
Here is how the Sirens, AKA the Dazzlings, Sonata Dusk, Adagio Dazzle, and Aria Blaze, fit into my weird and multi-gen PONY POV fanon-verse!
This is part one, that deals with their actions and origins from before they rampaged across Equestria, and also of course.
Origins of the Dazzlings, the sirens, in the Pony POV Verse. Where did these sirens come from, who were they? And why send them to another world? Get ready for plenty of surprises for these through and through monsters.
Many of the songs here and in the next part were commissions composed by Kendell2.
PLEASE check out the ton of recursive fanfics of this fanfiction series. A lot of heart went into them! They also answer a lot of unaswered questions. http://mlp-pony-pov-series.deviantart.com/ For heaven sake they rock! Kendell2 and Oracle Mask and Richforce and Ardashir and Jawmax and Persona22 and Dragon of Twilight and ItsFromPeople and all the rest!!! http://alexwarlorn.deviantart.com/journal/Pony-POV-Series-Fanworks-fanmedia-By-Category-332817406
Cover art by Atomic Chincilla, the same guy who did the art for the original Discorded Ponies Epilogue and Trixie's Discording and Rainbow Dash's Reharmoization episode. http://atomic-chinchilla.deviantart.com/art/Com-The-Pony-POV-Series-Season-8-Title-Card-481057801
My Little Pony Friendship Is Magic And All Related Characters Copyright Of Hasbro
Happy Anniversary, Series "Pony POV!"
Oh my goodness, now you're turning three!
Though I'm a latecomer to be reading thee,
Straight to the end, and beyond, there I will be!
Characters from canon, and from fanon, galore!
My, but this series I assuredly, truly adore!
Though it's rather lengthy, it's never been a bore!
As it's my favorite story, I'm looking forward to more!
--gamexpert1990
Cover art by Bratzoid http://www.deviantart.com/deviation/483058035
Chapters (2)