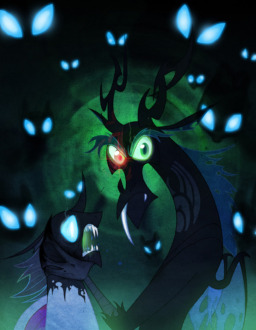 Source
Driven to the darkest depths capable of his chaotic powers by his own doing, Discord is no more, but Accord now reigns. With his playful and trickster-like personality now replaced with a pessimistic one that now finds little to no worth in pony life, Equestria is doomed not just to chaos, but to desolation. City by city, town by town, village by village, all is left asunder and bare by this terrible new threat. It is evil at its barest essence, and many would agree, but would Discord?
---
Quick Oneshot I wanted to try out with sunshinederp's(over on tumblr) version of a corrupted Discord.
Written before season three.
Chapters (1)