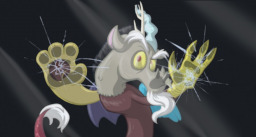 "Imagine if you would, a perfect world, free of all of life's little sins and sufferings. Now imagine that you're living in this world now, totally free of any obligation or consequence of the reality you left behind. Would you take the chance to enter this perfect world? Click yes, or no, at the bottom of this page. Rules and restrictions do apply, only citizens within the boundaries of earth are eligible."
Disclaimer: Written long before 'Keep Calm and Flutter On' aired.
Warning! Shameless self-insert OC story ahead! Proceed at your own risk!
Does contain some language and violence from time to time~
I know there are some grammatical errors, but they will be fixed chapter by chapter once the story is completed.
Chapters (33)