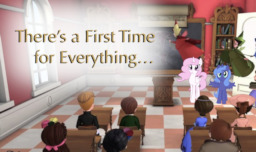 Against better judgment, King Cosmos decides to enroll his two daughters Celestia and Luna into a school that is just for royalty! Just one problem: The school is across a portal into a world where animals (unicorns, ponies, pegasi, "winged unicorns", etc.) don't talk, use magic, or attend a royal school!!!
How will Sofia and her friends handle the new students? How will Celestia and Luna feel when they are thrown so far outside their comfort zone (and home)? Sure, they look different and act different and they will likely run into several practical issues... but what could possibly go wrong? (Flora, Fauna, and Merryweather can think of several things, all of which Cosmos ignored.)
---
Not sure if this is the first "Sofia the First" crossover or not (or if this categorizes as a crossover if the fic is AU) but there's no tag for it, so I guess it may be. This is probably a very niche genre, but I hope y'all enjoy the story! The idea hit me randomly one night as I wondered what it would be like if Celestia and Luna attended Sofia's school. Stay tuned to find out how I think things would go down!
Chapters (2)