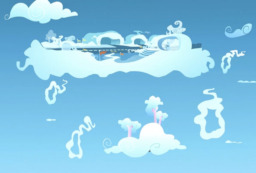 Storm Weaver, a young and ambitious pegasus from Cloudsdale was always enamored with flight. Taking this love of flight into practicality, he is attempting to achieve the High Fliers scholarship, which requires him to do well in several races. Having already completed the majority of the races he needs, he's more than confident that the last race will be just as easy as the others.
However, a new participant enters the competition, and they seem to have quite the ego. Certainly this won't have a lasting impact on Storm Weaver's life. Right?
I hope your opinions on Dash are accurately represented here, Truth.

Chapters (1)