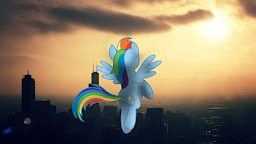 I'm Rainbow Dash and it has been three years since I became a pony from a little girls show (Yes, I was originally a human). Many people ask how a human can become a pony, now I'm just going to tell them to go read this. Honestly, I have no idea why my DNA decided to go nuts, it just happened. A lot has happened in three years, I've had strange dreams about being a pony, my body has decided wants to be equine in nature, and gone on tons of adventures with my five best friends. Now stop looking at the description and get on with it.
This is pretty popular for being my first story. Thanks guys!
Thanks to DeepThought for being my editor.
Wow. Its been one year since I posted this. Looking back...yeah ok I was a newbie when I wrote this and it shows. Geez I have improved a lot. I cringe every time I reread it. I mean just...UGHHHH *shudders*GOD I was so bad its embarrassing. I could rewrite it but I think I'll leave it the way it is as a way to show myself how much better I've gotten. Anyway thanks for reading!
Chapters (14)