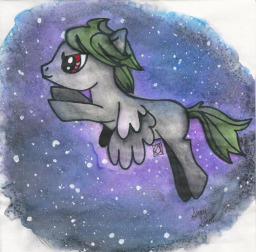 Source
It started five years ago, near the forest, when Celestia's prodigy played witness to a shadowy conspiracy surrounding the Princess of the Night.
Now the devastation begins, mere weeks before the world watches the royal wedding, perhaps the most terrible possible consequence comes of Luna's rash actions.
Alone in a world seemingly turned against him Shadow Chaser is forced to walk the line of living and dying until the day might come when his past comes to light. The machinations of royalty and magic flow around him without breaking, revealing a current of events the poor colt only has the slightest knowledge of. Through his eyes exists a window into the events of a larger and more fascinating Equestria than was ever explored by the classic adventures.
What exactly happened between the seasons?
Do you really want to find out?
Chapters (30)