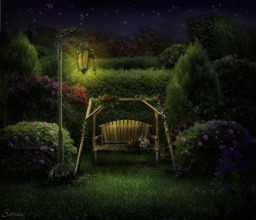 Source
Music has been a constant in Luna's life. Before her banishment, she'd spent hours conversing with composers about their works, and even tried her hoof at composition herself.
As it turns out, being trapped in your own mind with a power crazed lunatic bent on eternal night doesn't leave much room for music.
Maybe a good old fashioned symphony, a walk, and some company can reignite that spark, or at least give it to someone else.
Cover art by Sirena-Art on Deviantart
---
This was written for NaiadSagalotaOar as a part of Jinglemas 2020! For more information about Jinglemas, checkout our group!
Chapters (1)