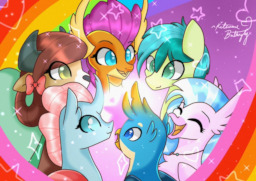 Source
Gallus has some problems. Five problems, to be exact. Five problems that he happens to love simultaneously.
Guidance counselors are supposed to help with problems, so maybe Trixie will have some answers, or at least a listening ear.
---
This is a fic about polyamory, self-loathing, self-discovery, and acceptance.
Preread by Nailah and The Red Parade.
Cover art by tresmariasarts on derpi.
Chapters (1)