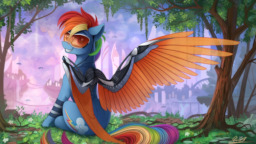 Source
Spitfire is missing. She's been gone for four years. She's probably dead.
But she won't be forgotten. Rainbow will make sure of that.
---
Special thanks to EverfreePony for proofreading and editing. Cover art by Yakovlev-Vad on deviantart.
The always wonderful Nailah did a reading of this! You can find that here.
Chapters (1)