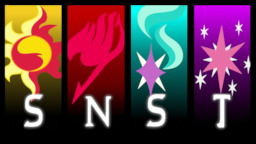 A RWBY alternative universe crossover anthology series inspired by the Marvel Cinematic Universe, the fanfictions Viridescent by darkfire1220, and Team STIK (Strike) by Aragon365.
Celestia is the greatest huntress in all of Remnant, inspiring a generation of young children to grow up and become huntsmen and huntresses themselves. Sunset Shimmer, among the inspired children, is a timid and quirkless girl who discovers Celestia's debilitating injury and secret behind her power, and becomes entrusted to inherit the secret power of "One for All".
Secrets appear to be commonplace at Beacon Academy as secret after secret comes to surface, making high school much more interesting for Sunset Shimmer, her team, and just about every other student in Beacon.
Greater list of this being a crossover with (in no particular order and to varying degrees) (partially incomplete due to my paranoia with spoilers and to curb unnecessary expectations):
Fairy Tail, Metroid, Marvel Comics, Legend of Zelda, My Hero Academia / Boku No Hero Academia, Star vs. The Forces of Evil, Octopath Traveler, and Fire Emblem.
Chapters (8)