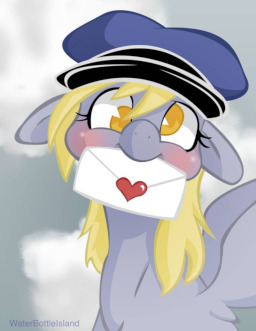 Source
You are Ditzy Doo. A middle-aged mare who is her own boss working in your own postal service company. You forget what it's called from time to time but that's okay. You hear voices in your head that give you wisdom. Most of the time it's just garbage that makes you do stupid stuff but you listen to them because you have no sense of awareness. But that's okay because you're Ditzy Doo and you can Doo whatever you want...within the law of course...and within reason.
"Is that you Anon? Wha-what your in my hea"-
Hell no muffin stuffer shhh shhhh stay silent, your queue isn't up.
A "Tell your own Tale" Writing Game where I, the dominant voice in Derpy's head, tell her what to do based on the lesser voices, you people in the comments. Let's work together to make this the most boring, most awesome, most dumbest crap this website has ever seen. I have already given up HAZZAH! I haven't felt an emotion in yeeeears!
(Will be Updated Regularly)
First, MLP, Story. Wanted to break y'all in before I unleash darker stuff. What better way with laughs and community interaction.
Chapters (1)