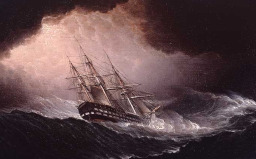 Source
She couldn't remember how it had happened. The serenity of life on land had long been since stripped away, dragging her out to an endless sea which she couldn't escape. With nobody but herself, she was left to question what would find her first: Insanity, or death. For now she searches aimlessly, along an ocean of light and dark with no beginning and no end, with no purpose. Like it or not, a purpose will find her, one that will shake her sanity and grip on reality to it's very core.
The ocean is a strange mistress, calm as a summer day and vicious as a pack of wolves, it heeds the command of none.
---
Super experimental fic, basically a collection of semi-canonical short pieces.
Chapters (3)